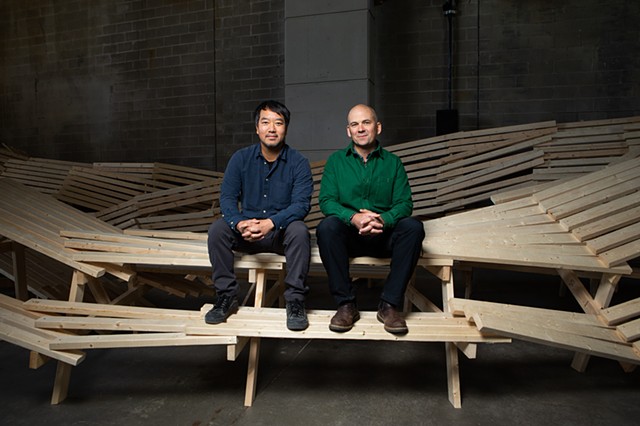 We have collaborated since 2005 and have created works that suggest layers of earth, the flow of a glacier, the expanse of the forest and the swell of the sea. Although our works are typically sculptural and immersive, our process is like drawing -- our projects are iterative and developed through collaborative editing and revision.
Working together allows us to share and compare each other's memories, experiences and direct observations of the natural and built environments. It's a process we call shared seeing.
Over the past eighteen years of working together, three formal threads have emerged from our work: 1) Scale - each piece creates a one-to-one relationship between the viewer and the site where the work exists, 2) Juxtaposition - our work often inverts the built and natural landscape to create an artwork that straddles real and imagined space, and 3) Play - experimentation and material invention keeps our practice a fun and necessary part of our lives.
Conceptually, each project is an opportunity to extend our process of shared seeing to a new audience and to learn how a community engages their built and natural landscapes. Our hope is to mine the collective imagination of our audience in order to illustrate that art making in public space is intrinsically collaborative.